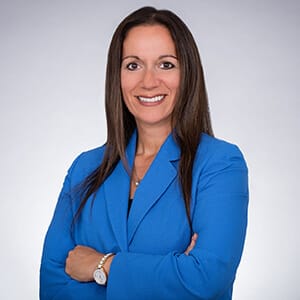 Lisa Figueroa Esq.
Founding attorney
Location: Orlando, Florida
Phone: 407-800-2000
Main Office: 407-800-2000
Fax: 407-999-8982
Email: Email Me
Lisa Figueroa is the founding attorney of the Florida Defense Team, PA. She has been practicing law since 2003 and almost exclusively in the area of "criminal defense", a misnomer given that really she sees her work as "people defense" or the defense of those accused of committing a crime. She is an experienced trial attorney having handled nearly 100 jury trials since she started practicing law, the vast majority of which were victories for her clients.
Lisa Figueroa has dedicated her life to fighting for the rights of others. She is originally from Rio Piedras, Puerto Rico, but lived a great deal of her life in Central Texas and moved to Central Florida to finish college. The rich diversity that Florida provided allowed her to pursue her dream of helping those who lacked the resources to defend themselves or speak for themselves when under legal attack. This began on a smaller scale growing up and has now escalated through being the voice for her clients. She is dedicated to fighting for the wrongfully accused and those that are misunderstood, as well as understanding that we are more than the sum of our mistakes. One case at a time, she fights the battle against over-criminalization of certain acts, as well as mass incarceration. She is an advocate against minimum mandatory sentencing and for criminal justice reform to make our laws more fair and just and to bring back judicial discretion as well as oversight on sentences imposed.
She has been the managing partner of this firm, and her former firm The Figueroa Law Firm, PA since 2003 and is passionate about making a difference in each of our clients' lives as well as the system itself. She does this all while being herself a wife, a mother of 4 children and a woman of faith who has overcome many obstacles in her life. It is from that life experience that the firm's motto was birthed and focused on not judging others, but rather serving those in need, those who are misjudged and those who are wrongfully accused.
Areas Of Practice
Criminal Defense
Family Law
Criminal Law
Custody & Visitation
DUI/DWI
Divorce
Civil Rights Law
Litigation
Litigation Percentage
80% of Practice Devoted to Litigation
Bar Admissions
Florida
U.S. District Court Middle District of Florida
Education
Florida State University College of Law, Tallahassee, Florida
J.D. – 2003
Honors: Book Award for Receiving The Top Grade in Law & Public Opinion
Honors: Vice-Justice, Phi Alpha Delta
Honors: Board Member, Public Interest Law Student Association
Honors: Member, American Civil Liberties Union
Honors: Member, Spanish American Law Student Association
Law Journal: Journal for Transnational Law and Policy, Member
University of Central Florida
Bachelor Degree cum laude
Major: Political Science
Honors And Awards
Awarded the Legal Eagle Award of County Court from the Public Defender's Office
Professional Associations And Memberships
National Association of Criminal Defense Lawyers, Member
American Bar Association, Member
National Association of Professional Women, Member
Central Florida Women Lawyers Association, Member
Public Interest Law Student Association, Board Member
American Civil Liberties Union, Member
Spanish American Law Student Association, Member
Past Employment Positions
Ninth Circuit's Office of the Public Defender
Languages
Fraternities/Sororities
We're Here to Help
Click the button below to contact a member of our team.